Update from Central's CEO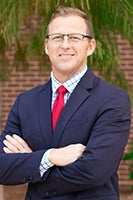 Members' smiling faces, countless numbers of cars and a sea of orange buckets have kept our heads buzzing at Central since the drive-thru Annual Meeting. 
We are so appreciative of all the members who are helping keep the cooperative model alive by attending annual meeting. This is the third year in a row we reached quorum, something many electric cooperatives struggle to do. 
This year, 2,376 members attended the drive-thru meetings throughout our service area in Chandler, Guthrie, Perry and Stillwater. It was a record-breaking year for Central, and it is all thanks to you. 
Members in attendance voted to incorporate the proposed bylaw changes that have now taken effect. Those bylaw changes will help keep Central current with members' needs. 
Annual Meeting isn't just a business meeting to Central. It gives us an opportunity to celebrate what's important - our members! Central is connected to you by more than just powerlines, so thank you for empowering your cooperative through the 83rd Annual Meeting.